According to a recent study, 90% of the banking sector's interactions will be automatic by 2022. To remain competitive, organizations in the financial sector need to rethink their customer experience strategy and be prepared to meet the rising customers' demands and expectations.
FusionFabric.cloud is a scalable, open, and collaborative development platform built by Finastra. The secure and proven cloud platform encourages innovation, opening up the company's core systems through APIs so that third parties can develop applications on top. Fintech can quickly build and promote apps worldwide. Financial institutions can access or create new services, which their customers are demanding, faster. Visit fusionfabric.cloud.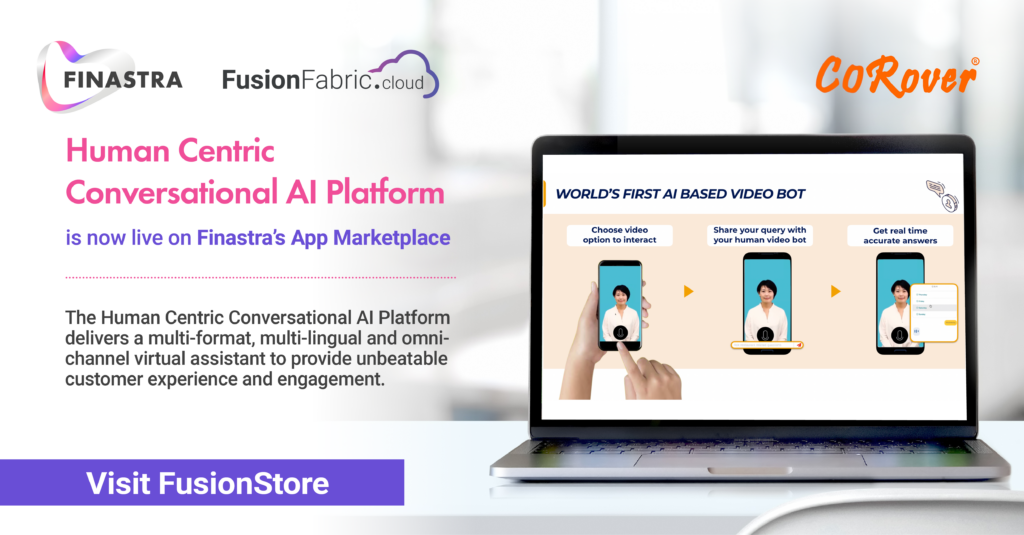 CoRover, the world's first human-centric conversational AI company offering chatbots as a service, today announced that it's Human Centric Conversational AI Banking application is available for purchase through Finastra's FusionStore. CoRover has made a dedicated investment to provide chatbots for the finance industry, building upon capabilities proven in other business-to-consumer industries. The digital and corporate banking application will enable financial institutions to benefit from a secure, scalable, and reliable virtual assistant.
The Human Centric Conversational AI Platform (HCCAP) provides banks with a unified conversational AI solution for any banking-related queries and transactions to help improve lead generation, the bottom line via customer automation, and customer experience by personalization. The solution helps users talk to banking portals the way they would talk to a person.
The Human Centric Conversational AI Platform provides customer service virtual assistants in over 100 languages and supports over 400 million users worldwide. The app is multi-format including VideoBot, VoiceBot, ChatBot, Click Based Bot, and multilingual with 100+ languages available. It can be integrated with existing retail digital channels as well as other channels such as WhatsApp, Telegram, SMS, Twitter, Signal, and more.
An option to have the virtual assistant as a standalone web page or app is also available. These capabilities automate customer support with artificial intelligence virtual assistants and let users do the banking with the human-centric bot.
Why do I need CoRover's HCAAP?
You can build a unified conversational AI solution for banking-related queries and transactions.
The app is multi-format including VideoBot, VoiceBot, ChatBot, and Click Based Bot. We even support over 100+ languages and 15 channels.
Our deployment is 10x quicker and has 90% accuracy due to pre-trained configurations.
What are the proven benefits of CoRover's HCAAP?
Increase revenue
Grow market share with lead generation. Increase customer retention and satisfaction through enhanced customer experience and personalization. As a result, banks can cross and up-sell products to existing customers to increase revenue.
Reduce cost and risk
Eliminate the need for current costly systems through automated customer support and quick go-to-live times through the use of the human-centric bot. This reduces operational cost as well as the risk of human errors and inconsistent employee performance.
Improve efficiency
Pre-trained machine learning data models used by over 400 million users generate high levels of accuracy. Improve operations' efficiency with virtual assistants that provide 24/7 automated support in multiple formats and in over 100 languages.
Conclusion
Going live on FusionStore marks the final stage of the app development journey for firms using Finastra's open development cloud platform, FusionFabric.cloud. The FusionStore marketplace enables Finastra's customers worldwide to access, test, purchase and deploy certified apps on top of Finastra core systems, helping them quickly realize the benefits and deliver added value to their customers.
Customer satisfaction is key in acquiring and retaining customers, but customers expect high levels of service with their questions answered quickly. Unverified information on search engines, social media, and busy or inactive contact numbers create customer dissatisfaction.
COVID-19 has driven a greater need for an enhanced digital experience as many customers prefer it over a physical branch.
A virtual assistant which talks in the local language can provide quick and authentic information to users. Banks struggle to provide this service via voice and message in the customers' language. The Human Centric Conversational AI Platform from CoRover delivers a multi-format, multi-lingual, and omni-channel virtual assistant to provide an unbeatable customer experience.
The app's standard offering with customization options is pre-integrated with Finastra's Fusion Essence and Fusion Equation core products. It is available through different deployment models including on-premises, hosted cloud, SaaS, or hybrid, and can be implemented in three to six weeks.
Visit CoRover's Banking App page on Finastra's fusion fabric cloud
Author
Advaith Jayaram
14/07/12